6 Simple Time Management Tips For Efficient Project Management
Most expert project managers will tell you that the most difficult aspect to get right is managing time. There are only so many hours in a working day and your team is limited. This means that time becomes a valuable resource that needs to be managed accordingly.
Here are some simple time management tips to improve your time management skills:
1. Plan your project
Knowing what you need to do ahead of time, and creating a project plan, will allow for a successful and cost effective project. Create a schedule according to your available resources and make sure that you include a buffer for unforeseen events and risk factors.
2. Create a list of priorities
Getting the most important tasks out of the way first will lessen the stress on the rest of your team and create a sense of accomplishment along the project journey. For effective time management, create a list of priorities and then break down the larger tasks into chunks to make it manageable.
3. Turn off your alerts and avoid distractions
All of the notifications that we get on our laptops, email accounts and cell phones are great for reminding us of important work but when you have a big job to do; these will only slow down the process. Project management requires dedication. Distractions are what drives us away from work. Minimize them and you will see how easy it is for you to focus on completing a task.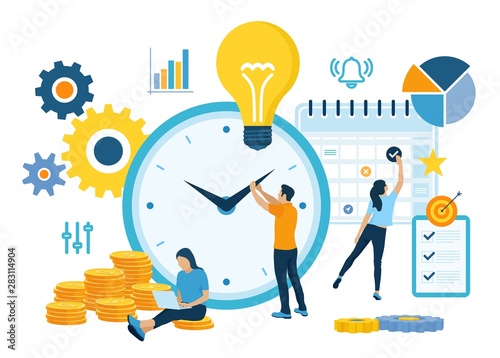 4. Work together
You have a team for a reason. Use the collective knowledge of the team to handle those sticky scheduling and time management problems. Meetings are a great way to get everyone together and see who can jump on an issue. Creating a get together for a specific task or issue allows everyone to get on the same page. Then having catch-ups to cover the more top-level aspects of a project will mean that your team will all know exactly which stage of the project you are.
5. Saying no isn't always a bad thing
You need to know your limitations so that you are able to serve work in a given timeframe. This not only allows you and your team to deliver, but it also reduces stress associated with burnout. You don't have to be nasty about it either. A good reason and an assertive response to others asking you to split your time will go a long way to giving you enough time to produce some good work.
6. Backup your time management strategies with the right tools
There are a myriad of time management tools available, both free and paid for. These tools were created for a reason and why not take advantage of these tools to make your project plan run smoothly. Look for time tracking tool to easier to track you and your team's performance.
---
Using these time management strategies will help you to better organize your workday and get more done.

Our comprehensive project management, business analysis, programme management, Agile & Lean practices and business skills courses give you and your teams the skills to become expert project managers that get your projects out timeously.

Click here to view all our courses and upskill you or your team.